PRAYVANCOUVER.ca: 2015-03-01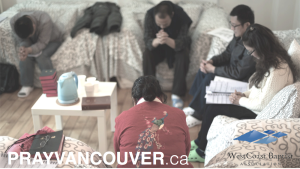 Each Day at 10:02 am/pm, we ask you to pray for God to call out workers for the harvest. There are currently over 50 individuals considering the call of God on their life to come to Vancouver and join a church or church plant to reach people with the Gospel.
The work is hard and people are facing challenges of all kinds. Please pray these words will be a reality in our time.
Even youths shall faint and be weary, and young men shall fall exhausted; but
They who wait for the Lord shall renew their strength;
They shall mount up with wings like eagles;
They shall run and not be weary;
They shall walk and not faint.
– Isaiah 40:30-31
Pray with Thanksgiving…
We are thankful for the affirming ordination of Pastor Sam Wong at Vancouver Chinese Baptist Church last Sunday.
We are thankful for those from the Living Springs Baptist Church who are prayfully planning to launch a new ministry to the biker community in the Langley area.
We are thankful for the four campus ministers from Texas with Dr. Dan Crawford who toured the campus ministries of our region as they plan for long-term partnerships with these ministries. We are thankful for the 37+ students who will come this summer to learn and serve in the harvest for at least six weeks in answer to our prayers.
We are thankful for the safe return of the leaders of our leader peer coaching team, Matthew Bond and Garrett Holmes, as they return from a week of in depth training by the North American Mission Board in Myrtle Beach.
We are thankful for the new site that has been found for the worship service of Beautiful Church (Pastor BK Chun) in Port Coquitlam
Pray for the activity of God…
We pray from the family of Margaret McKay, wife of Jack McKay deceased, who passed away with week. We also lift up the family of Gwen Burnett who passed away just before Christmas. These were key wives in the founding and development of our association.
We pray for Candace Thomas who injured her hand requiring several stitches. Pray for her recovery and healing as well as the children as they go through these days.
We pray for wisdom for Westlynn Baptist Church who is considering the call of a part-time pastor to carry the preaching responsibility of the church.
We pray for Ashley Austin (Pastor of Canvas Church) as he heals from knee surgery.
We pray for one of our churches as they deal with a very critical issue in a godly way full of grace and truth for the sake of the church and the individuals involved. Pray God would grant them wisdom and peace for each step.
We pray for the Collegiate Conference on the campus of Simon Fraser University that will be launched the second week of March. Pray for Salt Jones and Mel Cruikshank as they come to speak each evening. Pray for students to be challenged, encouraged and called out to mission each day. Give favor to those planning and those coming that there will be safe travel and well executed planning.
We pray for the recruiting of the first cohort of interns for Origin Church (Pastor Craig O'Brien) who will serve beginning in the fall of 2015. We are praying God will call our 6-8 students for a nine-month term and provide the financial resources need to prepare this special team.
We pray for the families of younger students (K-12) across our region that will be traveling over the spring break school holiday as well as those taking reading break for the universities. Pray for the emotional strength to persevere and finish the semester. Pray for the witness of Christian students during the high stress days.
We pray for the enlist and preparation of students and leaders for the British Columbia Summer Youth Celebration held during the month of August as well as the P2 Ministry project designed for secondary students being held in Vancouver during the month of July. Pray that God will fill each place available and call out leaders who will be used to guide these students to a closer walk with Christ and a deeper understanding of their call to missions.