Monday Morning Manna – Worry Free is not Free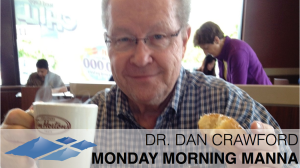 Ever hear the term, "worry-free"? I tried without success to research the term to find its origin and meaning. It obviously means to be free from worry, but it also implies that worry is free.
I've learned the hard way that worry doesn't change the outcome, and the cost is high – high blood pressure, high stress, high anxiety. Rather than being free, worry is not worth much. You'd think one who tries so hard to be Christ-like wouldn't have a problem with worry, but I'm pretty good at it and I rather enjoy it, plus my worrying is partly an inherited trait and partly a learned habit. But three times in His sermon on the mount, and once beyond that sermon, Jesus told his disciples, "do not worry" (Matthew 6:25, 31, 34, Mark 13:11). A Swedish proverb says "Worry often gives a small thing a big shadow." Corrie ten Boom is reported to have said, "Worry does not empty tomorrow of its troubles/sorrow. It empties today of its strength." So from the perspective of "do as I say, and not as I do" take my advice this week and don't worry so much. It isn't free – and you probably can't afford it.
Dr. Dan Crawford, Senior Professor at Southwestern Baptist Seminary, is the WestCoast Baptist Association's Spiritual Life & Leadership Mentor. Follow Dan on Twitter @DrDanRC and Facebook http://www.facebook.com/dan.crawford.