Monday Morning Manna: Worry and Birds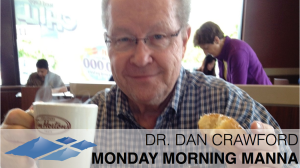 I like to worry. I know I'm not supposed to worry, but I rather enjoy it and over the years, I have become a rather accomplished worrier. My mother was a worrier, as was my grandmother. It is in my DNA. I know the Swedish proverb, "Worry often gives a small thing a big shadow," and the anonymous quote, "You can't change the past, but you can ruin the present by worrying about the future." But it is the scripture that convicts me, that, and the pesky little birds that mess up my car windshield every morning. Jesus said, "Therefore I say to you, do not worry about your life, what you will eat or what you will drink; nor about your body, what you will put on. Is not life more than food and the body more than clothing? Look at the birds of the air, for they neither sow nor reap nor gather into barns; yet your heavenly Father feeds them. Are you not of more value than they" (Matthew 6:25-26)? OK, Lord so I am more valuable than a bird? Right? Can't I worry just a little bit? "No," you say? But I dislike those little birds! Alright, I'll try not to worry today, but honestly, I'm really worried about that.
Dr. Dan Crawford, Senior Professor at Southwestern Baptist Seminary, is the WestCoast Baptist Association's Spiritual Life & Leadership Mentor. Follow Dan on Twitter @DrDanRC and Facebook www.facebook.com/dan.crawford.