Monday Morning Manna: Words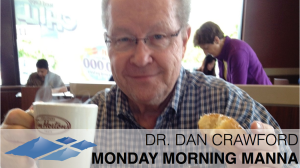 I've always had books. I learned early the value of being well-read. My pastor-father had a large library and upon his death, some of it added to mine. Henry Ward Beecher, a clergyman and writer from an earlier generation, wrote, "A little library, growing every year, is an honorable part of a man's history. It is a man's duty to have books." Thomas Jefferson said, "I cannot live without books." One wonders how these men would have fared with e-books. But back to my point – books are good, for a season. There comes a time to pass on the books. I have now donated twelve boxes of my library books to the Canadian Southern Baptist Seminary. My last will allows for more books to go to that same institution. I'm trying to decide what to do with over 300 books on the subject of prayer, and several hundred on the subject of discipleship. As one who has spent a career as a teacher, preacher, author, words have been important to me. I agree with Mark Twain who said, "The difference between the right word and the almost right word is like the difference between lightning and the lightning bug." Now I find myself doing less research, reading slower, focusing more on the words than on the thoughts. I need fewer books, but more words. The writer of Proverbs said, "Pleasant words are like a honeycomb, sweetness to the soul and health to the bones" (Proverbs 16:24). Perhaps you and I could pay closer attention this week to the words we read, and the words we speak.
Dr. Dan Crawford, Senior Professor at Southwestern Baptist Seminary, is the WestCoast Baptist Association's Spiritual Life & Leadership Mentor. Follow Dan on Twitter @DrDanRC and Facebook www.facebook.com/dan.crawford.