Monday Morning Manna: Whether to Laugh or to Cry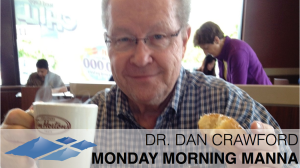 Sometimes you have a choice of laughing or crying. A few years ago, we drove quite a distance to preach on Easter Sunday morning for a pastorless church. Following the service I was thanked and handed an envelope. On the way home, I jokingly, asked my wife to open the envelope and see if we had received enough honorarium to cover lunch. When she told me the amount, I did some quick math in my head and discovered that not only did we not have enough to cover the cost of round-trip gasoline; we had no lunch money. We could have whined, and cried, and felt sorry for ourselves, but we chose to laugh, get a hamburger, and drive on home. The writer of Ecclesiastes said there is, "a time to laugh" (Eccl. 3:4) and the Psalmist repeatedly referred to God laughing (Psalm 2:4; 37:13; 59:8). William Arthur Ward, author of "Fountains of Faith", and one of America's most quoted writers of inspirational maxims, wrote, "A well-developed sense of humor is the pole that adds balance to your steps as you walk the tightrope of life." That's why I told many classrooms of Seminary students, whatever else you have, you will need an ability to laugh, in order to succeed in ministry. How about you? Laugh at something today, or maybe even at yourself.
Dr. Dan Crawford, Senior Professor at Southwestern Baptist Seminary, is the WestCoast Baptist Association's Spiritual Life & Leadership Mentor. Follow Dan on Twitter @DrDanRC and Facebook http://www.facebook.com/dan.crawford.