Monday Morning Manna: Where Was God in the Midst of the Hurricane?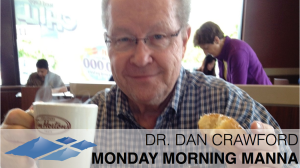 Last Monday's morning manna, "Things Seen and Not Seen in Hurricane Harvey" went viral so I am told. This week's Manna may well go the opposite direction. I am getting really tired of small-minded people posting on social media that the devastation of Hurricane Harvey and now Hurricane Irma is God's punishment on southeast Texas and Florida (Why do they never mention the Caribbean?). They picture God laughing in the heavens as He gets revenge for the sins of the people. They obviously worship a different god than I do. My God "makes the cloud His chariot" and "walks on the wings of the wind" (Psalm 104:3). He sleeps during the storm. At least that's what the disciples discovered when a storm arose on the Sea of Galilee. That Sea is located in the midst of mountains where sudden, unexpected storms can hit fishermen and travelers without warning. Such was the case in Mark 4:35-41. As the storm raged, Jesus slept. In their panic, the disciples awakened Jesus, and He simply "rebuked the wind, and said to the sea, 'Peace, be still!' and the wind ceased and there was a great calm" (Mark 4:39). Make no mistake, the damage caused by Harvey and Irma was overwhelming and the losses almost unbelievable, but God is not to blame. Yes, there is sin that needs punishment in both locations, but God-fearing, Jesus-loving people suffered alongside the godless, and even the most sinful were thanking God for their safety. "Where is God?" they asked. God is right where He was when the sky grew dark at noon and the earth quaked. When the depths of human sin met the divine heights of God's love; where God so loved the world that He gave His only Son. My God dwells in the midst of His people, even when the storms hit. And when the storms do hit, it is far better to have Jesus in the boat with you, than to have to go looking for Him.
Dr. Dan Crawford, Senior Professor at Southwestern Baptist Seminary, is the WestCoast Baptist Association's Spiritual Life & Leadership Mentor. Follow Dan on Twitter @DrDanRC and Facebook www.facebook.com/dan.crawford.