Monday Morning Manna: Sunday Afternoons at the Depot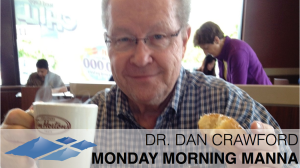 Growing up I lived with my grandparents in Bellmead, Texas. It was during World War II and my Dad was in Germany. My mother had contracted Tuberculosis, and was in a sanitarium in west Texas. My grandfather worked hard six days a week, but Sunday was our day. We went to church, followed by lunch, then spent the afternoon at the Katy Depot in nearby Waco. In those days there were many passenger trains that came through Waco on Sunday. I'm not sure what all my grandfather saw at the Depot, but his love for trains transferred to me, plus several lessons I learned in those visits. Trains run on tracks. They don't get where they are going by jumping the tracks and taking off across the countryside. In those early years, I decided that I would run on God's tracks, rather then try to create my own. At night my Grandfather would take his banjo and play "Life's Railway to Heaven" based on Psalm 48:14, "For this is God, Our God forever and ever; He will be our guide even to death." One verse of the song proclaimed, "Watch the curves, the fills, the tunnels; never falter, never quail; Keep your hand upon the throttle, and your eye upon the rail." Deciding to live life on God's "rails" has been a good decision. Recent Amtrak wrecks, reminded me that there are times you can go fast and times you must slow down. If you try to go faster than the tracks allow, you wreck. In this slowing-down time of life, I'm glad I grew up spending Sunday afternoons at the depot.
Dr. Dan Crawford, Senior Professor at Southwestern Baptist Seminary, is the WestCoast Baptist Association's Spiritual Life & Leadership Mentor. Follow Dan on Twitter @DrDanRC and Facebook www.facebook.com/dan.crawford.