Monday Morning Manna: Sliding into Home or Quitting at Third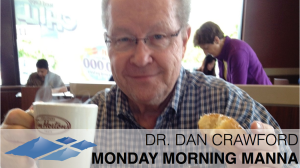 The Senior Adult years are like rounding third base and heading for home plate. That reminds me of my last organized game – a church-league softball game. I was on second base when our batter hit a line drive between the outfielders. As I approached third base, the youthful coach waved me toward home. My youthful forty-something body said go. My more mature forty-something mind said stop. I stopped at full speed. The popping sound heard all the way to the bleachers was my hamstring. It was over! My last game! I quit! Back to senior adulthood. I've rounded third base, with multiple reasons to stop (listing them here would only be depressing for a Monday), but I've chosen to "press toward the goal," (Philippians 3:14) in this case intending to slide safely in to home when I've "finished the race" (2 Timothy 4:7) – at no time soon, I hope! Actually it matters little where you are on the base paths of life. You can quit, or you can keep going. Join me at home plate someday with a well-done, and a hallelujah high-five.
Dr. Dan Crawford, Senior Professor at Southwestern Baptist Seminary, is the WestCoast Baptist Association's Spiritual Life & Leadership Mentor. Follow Dan on Twitter @DrDanRC and Facebook www.facebook.com/dan.crawford.