Monday Morning Manna: Redeeming The Thirty-Second Minute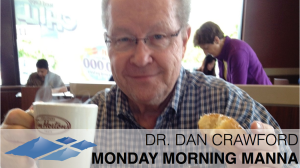 Preceding the kick-off of a recent Monday Night Football game the announcer asked the fans to stand for a "thirty-second moment of silence." There had been a tragedy in the area and a silent observance was appropriate, but a "thirty-second moment" was a bit confusing. Having thought about it for a few days, I think I've discovered my problem – too many thirty-second moments. Life has been rushing by way too fast lately and I've been concerned about it, considering my moments on earth are closer to the end than they are to the beginning. But seriously, cutting moments to thirty seconds is not fair. I mean, how can I involve myself in "redeeming the time" (Ephesians 5:16) if the moments keep getting shortened to thirty seconds? Fortunately, the announcer was simply using a figure of speech, but unfortunately, time is rushing by. So join me this week in "redeeming the time" moment by moment, whatever the length of your moments.
Dr. Dan Crawford, Senior Professor at Southwestern Baptist Seminary, is the WestCoast Baptist Association's Spiritual Life & Leadership Mentor. Follow Dan on Twitter @DrDanRC and Facebook www.facebook.com/dan.crawford.