Monday Morning Manna: Prayer and More Needed for Returning Missionaries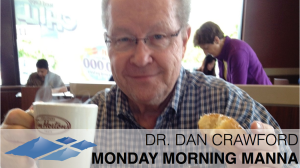 In an earlier Manna I wrote, requesting prayer for 800 missionaries who have been asked by the Southern Baptist International Mission Board to take early retirement and return home by December of this year. Every missionary over the age of fifty received this Voluntary Retirement Incentive (VRI). I've received several interesting E-mails, Facebook private messages, Skype calls, etc. from former students of mine, and friends I've met on various mission fields. If you know of missionary housing that will be available in December, please let me know and I will pass the information on to returning missionaries who still have nowhere to live. Also, if you have or know of someone who has a vehicle to donate, let me know. Few of these returnees will have vehicles. I will arrange to get the vehicle to the missionary. I'd like to share some of the missionary responses with you (with adaptations to protect confidentiality) in hopes you will feel led to pray more intensely for these faithful servants who are struggling with a tough decision. It is time to go, "boldly to the throne of grace" (Hebrews 4:16):
· "We are asking heart-wrenching questions. If we return stateside, we will look for ministry opportunities. We are not ready to retire"
· "The biggest challenge for us is not to have several months to better prepare our national partners for the future. It is hard to think that we will be leaving after having the fantastic privilege to serve our Lord here for over 30 years.
· "I find myself today wondering if we will stay, where our ministry is only beginning to take off, or return to the States."
· "At this point I don't feel led to retire but I want to wait before making a final decision."
· "Just keep praying. The future seems very uncertain. Missionaries are dealing with a range of emotions, unfortunately at this point it does not include excitement."
· "We REALLY appreciate your message and your prayers. Yours is the only
message we have received from friends back in the US regarding the VRI."
· "To be honest, I will be surprised if God leads us to return. We are very sad that this is happening and have very mixed feelings. All of our emotions are on a roller coaster."
· "It is a very discouraging time for all of us and morale is at an all-time low."
· "More changes are coming next year, so please continue praying."
· "Pray for wisdom, discernment and clarity of mind as I read through the pages of the legal and financial package that was sent to me. I almost feel like I need a degree in both law and accounting. It is a little overwhelming."
· "I am thinking of staying at least one more year as self-funded."
· "Pray specifically for those whose children could lose their missionary scholarship to college if their parents are no longer missionaries."
· "God has not told me to leave my place of service. I am staying. I will lose my apartment, car, salary, and benefits, but I am staying until God tells me to go home."
· "I want to inform you that I have decided decline the retirement package and stay on the field at this time. I feel it is not my time to leave."
· "We still feel very called to our work, and have decided to say 'no' to the retirement package."
· "Pray that I would be able to tune out the noise and chaos and listen to the Lords voice as He directs me. I think we are in for some very difficult days."
· "It's touching that so many people are praying for those of us on the field. It's not an easy decision."
Finally, my good friend Rodney Hammer, a former missionary, and presently Executive Director of the Blue River-Kansas City Baptist Association has set up a "Go Fund Me" account so we can assist returning missionaries financially. I'm looking for persons to match my $100 donation or give whatever they can. Go the web site and read, then click "Donate Now" to make your contribution. https://www.gofundme.com/returnedmissionary.
Now join me in praying for these global concerns.
Dr. Dan Crawford, Senior Professor at Southwestern Baptist Seminary, is the WestCoast Baptist Association's Spiritual Life & Leadership Mentor. Follow Dan on Twitter @DrDanRC and Facebook www.facebook.com/dan.crawford.