Monday Morning Manna: Mornings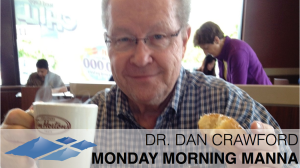 I love early mornings. I'm usually the only one up at my house. It is quiet and still. I usually awake with a song or hymn on my mind, and take time to reflect on why that particular tune is in my mind for that day. I can have breakfast at my leisure. Read the Scripture for the day. Look over the social media prayer requests that have come in overnight (I have former students serving all over the world, so often their day-time prayer requests come to me when I am sleeping.), pray through my prayer list for the day, set my daily agenda, give thanks for another day, listen to the morning sounds, and watch the neighborhood arise for the day, as I go on my walk. Tecumseh, an 18th century Native American leader of the Shawnee, and an iconic folk hero in American history, was credited with saying, "When you arise in the morning, give thanks for the morning light, for your life and strength. Give thanks for your food, and the joy of living. If you see no reason for giving thanks, the fault lies with yourself."
Some of my frequent, and favorite morning songs are:
• "Morning has broken, like the first morning, blackbird has spoken, like the first bird;
praise for the singing, praise for the morning, praise for the springing fresh from the world."
• "When morning gilds the skies, my heart awaking cries: May Jesus Christ be praised!"
• "Morning by morning new mercies I see; all I have needed Thy hand hath provided — "Great is Thy faithfulness," Lord, unto me!"
• "The sun comes up it's a new day dawning; it's time to sing Your song again. Whatever may pass and whatever lies before me let me be singing when the evening comes."
• "In the morning, when I rise, give me Jesus"
Some of my frequent, and favorite morning verses are:
• "And in the morning you shall see the glory of the Lord" (Exodus 16:7).
• "When the morning stars sang together, and all the sons of God shouted for joy" (Job 38:7).
• "Weeping may endure for a night, but joy comes in the morning" (Psalm 30:5).
• "He awakens me morning by morning, He awakens my ear to listen as a disciple" (Isaiah 50:4, NASB).
• "His compassions fail not. They are new every morning" (Lamentations 2:22-23).
• "Now in the morning, having risen a long while before daylight, He went out and departed to a solitary place; and there He prayed" (Mark 1:35).
• "I, Jesus, have sent My angel to testify to you these things in the churches. I am . . . the Bright and Morning Star" (Revelation 2:16).
So, how's your morning going? Do you have a favorite morning song or scripture to share with me today?
Dr. Dan Crawford, Senior Professor at Southwestern Baptist Seminary, is the WestCoast Baptist Association's Spiritual Life & Leadership Mentor. Follow Dan on Twitter @DrDanRC and Facebook www.facebook.com/dan.crawford.