Monday Morning Manna: March Madness and Life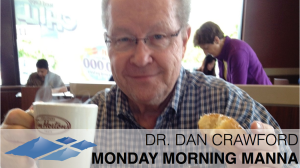 Why do I repeat the same frustrating experience every March? Sixty-four college basketball games lure me (and thousands of others), to predict the winner. I'm not sure exactly what temptation faced Amos when he replied to Amaziah, "I was no prophet, nor was I a son of a prophet" (Amos 7:14), but I should repeat the same line and resist the peer pressure of picking the "final four." Basketball itself is a puzzling challenge. James Naismith, the inventor of the game, once said, "The invention of basketball was not an accident. It was developed to meet a need. Those boys simply would not play 'Drop the Handkerchief'." So, we play, and when we get older, we watch, cheer, and predict. It's a bit crazy, but it's a lot like life itself. Aristotle, who never saw a basketball game, said, "No great mind has ever existed without a touch of madness." So, I will study the brackets, and I will prophecy winners and losers. Then I will get on with living life in what Simon Peter called, "the madness of the prophet' (2 Peter 2:16).
Dr. Dan Crawford, Senior Professor at Southwestern Baptist Seminary, is the WestCoast Baptist Association's Spiritual Life & Leadership Mentor. Follow Dan on Twitter @DrDanRC and Facebook www.facebook.com/dan.crawford.