Monday Morning Manna: Just Skip the Coffee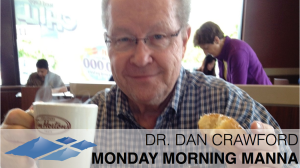 I speak in a lot of diverse places and under a variety of circumstances. Sometimes the welcome is warm and cordial. Other times, not so much. This time, I had completed a Sunday evening assignment of speaking in a church located not far from my home. I make it a practice to know as much as I possibly can about my audience, as well as my host, so as to relate as well as I can to them. I want them to enjoy my presentation and me, thus applying the Proverb that says, "Better is a neighbor nearby than a brother far away" (Proverbs 27:10). This time, I was unsure if the pastor was impressed or depressed with my presentation. I prefer appreciation over silence, and silence over negativity. However, I was encouraged when the pastor asked if I needed a cup of coffee before I headed home. Thinking he meant he was going to take me for coffee and fellowship, I replied in the affirmative. I was then surprised as his response. "On your way back to the highway, you'll pass a McDonalds. They serve a good cup of coffee." Maybe I didn't need a cup of coffee after all.
Dr. Dan Crawford, Senior Professor at Southwestern Baptist Seminary, is the WestCoast Baptist Association's Spiritual Life & Leadership Mentor. Follow Dan on Twitter @DrDanRC and Facebook www.facebook.com/dan.crawford.