Monday Morning Manna: Following a Holiday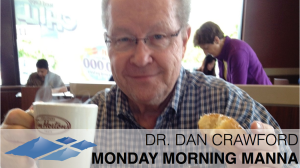 What do you do after a holiday? After Christmas, we clean up wrapping paper and bows. After New Year's Eve we sleep late. After Thanksgiving, we eat leftovers. After the 4th of July, we put away our red, white, and blue clothes for a while. But what do we do after Easter? Actually, we have another special day – Easter Monday, the day immediately after Easter Sunday. It is observed by many groups, but primarily by the Eastern Orthodox and Roman Catholic traditions. It marks the beginning of Easter Week. According to the Bible, Jesus appeared five times on that resurrection Sunday, and then again the following Sunday. But what happened immediately following resurrection day, and prior to the next Sunday? This is all we know for sure: sometime between the two Sundays, the disciples of Jesus encountered Thomas, who had been absent when Jesus appeared to the disciples on resurrection Sunday. When they told Thomas of the risen Lord, he doubted, and continued to do so until Jesus appeared at the end of Easter Week to challenge him (John 20). If you are like Thomas, you follow the Easter holiday with doubting and discovery. If you are like the other disciples, you follow the Easter holiday with celebrating and sharing. Either way, these days following Easter ought to be exciting. Live well this week.
Dr. Dan Crawford, Senior Professor at Southwestern Baptist Seminary, is the WestCoast Baptist Association's Spiritual Life & Leadership Mentor. Follow Dan on Twitter @DrDanRC and Facebook www.facebook.com/dan.crawford.