Monday Morning Manna: A Lost Christmas Word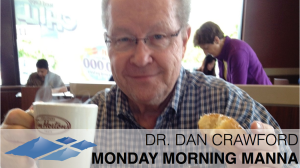 Here's a Christmas word for you. The oft-read "Christmas Story" from Luke 2, contains a wonderful word, largely a lost word in our vocabulary – "ponder – "to consider something deeply and thoroughly; to meditate; to weigh carefully in the mind; to consider thoughtfully." "Mary kept all these things and pondered them in her heart" (Luke 2:19). One of God's greatest gifts is the gift of memory. In fact, much of our Christmas observance is spent remembering, pondering. And pondering has a direct connection to praying, and an even closer connection to meditating. In his book, "Too Busy Not to Pray" Bill Hybels wrote, "When the spirit of adoration takes over and we begin pondering God's attributes, we soon say from the heart, 'I am praying to a tremendous God!' Which only motivates us to keep on praying." I'm praying today for a Merry Christmas and a Happy Pondering!
Dr. Dan Crawford, Senior Professor at Southwestern Baptist Seminary, is the WestCoast Baptist Association's Spiritual Life & Leadership Mentor. Follow Dan on Twitter @DrDanRC and Facebook www.facebook.com/dan.crawford.