We are a family of churches developing people into Christ–likeness and launching them into His mission.  We believe that this statement accurately reflects who we wish to be. It is biblically and theologically focused and its memorable.
We are a Family of Churches: We could have been a bunch of churches or an army of churches or a network of churches or a cluster of churches. But family is more descriptive of who we wish to be. In a family we belong to one another, we are both loved and love. We encourage one another. We serve and sacrifice for one another. Family reflects our common identity in Christ, who is our elder brother. We have the same Heavenly Father who has adopted us into His family and given us work to do.
Developing People: The focus of our common mission is people. We are not cooperating together to build grand buildings, or store up great wealth, or influence powerful people, or make life easier for the family. Our focus is people. People are precious. They are of such great value that God sent His Son to redeem them from their empty, broken lives. So much of the world is transitory, it is passing away, but people are eternal.
Into Christ–likeness: Our mission in engaging people is very specific. We are partnering with God to develop people into Christ – likeness. The goal of God is not just to get people into heaven but to do a transformative work in them so that when they get to heaven they will be ready to enjoy it. And so we intentionally partner with God in creating environments and opportunities for people to grow in the grace of Jesus. The greatest testimony that Jesus is alive are the lives of people He has transformed. And that leads us to the final phrase of our mission statement.
Launching them into His mission: From the very beginning even when we were still in the garden God have us an assignment. The current assignment is to make disciples of the nations. And in order to do that we develop people into Christ – likeness and then send them out to declare the goodness and grace of God in Christ to all people. We launch them across the street to their neighbours, to various communities around BC, and to the various places around the globe. Even tonight, a mission team from Origin is waking up in Greece and preparing to serve and witness to refugees.
By God's grace and with His favour
this is who we will become. Hamish Buntain
This is who we want to be. We may not yet be accomplishing this mission perfectly but by God's grace and with His favour this is who we will become.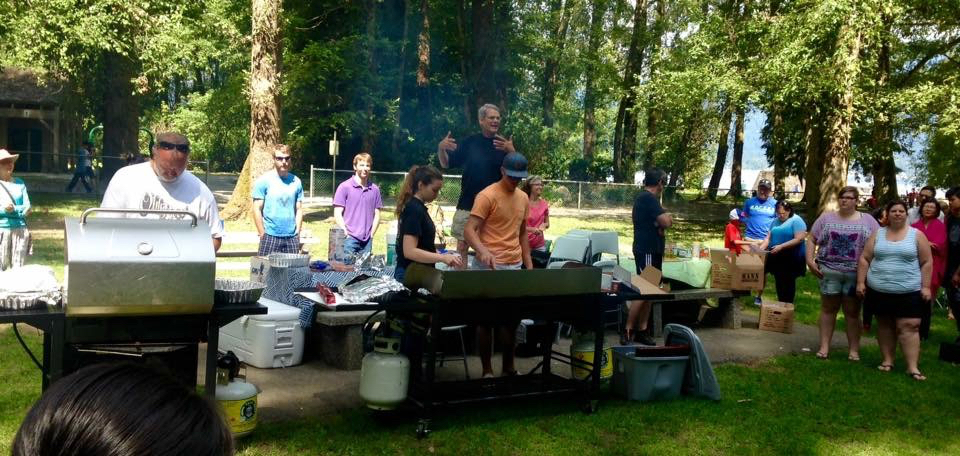 Family is a special thing.
I'm a single guy and an only child. In my extended family, my mom has 6 on her side, my dad has 5. Their kids are a lot older than me, so they have kids, grandkids, and I'm just me. Sometimes I think if I don't show up, it really doesn't make any difference because it's just an extra pair of chopsticks for us Chinese. However, I had a chance to visit family overseas last month, and they all said "it just haven't been the same because we haven't seen you."
That's the uniqueness of us as the WestCoast Baptist Association. We are churches, and we get together as a Family of Churches. Families come in all sizes, shapes, and forms. There are churches with 5 people, 50, and 500.
I remember having the privilege of doing a youth camp for pastors kids, youth that are serving with their parents at their church plants. We're gathered at couple of couches at the ranch, and one of the girls said she looks forwards to this every year. She said it was because there are more people around the couches that night than the number of people she gets to gather with weekly at the church. Therefore, don't underestimate the ministry of your presence when our Family of Churches gather together.
Family also helps one another. About 2 months ago, I got news that my uncle suddenly passed away overseas. I sent out a prayer request to our prayer network, and over the course of the next day, people were calling and texting and encouraging. The pastor at Towers Church texted me half an hour before his service that Sunday and asked to see how having to tell my father his brother passed away went.
This is family. Conrad Au
Next thing I knew, I had a deacon family from Vancouver Chinese Baptist call and said "let us know if you have any needs we can help with." I said, "I'm not going to be Chinese about this — I will call you!" Sure enough, as it turned out, my family and I were to fly to Hong Kong together and somebody needed to take us to the airport. I called them. They said "certainly, of course."
And there was my dog. When you need to board a dog for two weeks, that will cost you more than the airfare. Our church planting coordinators in White Rock took my dog in, and when I picked up my dog afterwards, they said to bring her back anytime. I said, "I will cash in on that offer as well."
This is family. That's the WestCoast Baptist Association.
A Stick of Gum

An Unusual Journey to Vancouver
My name is Steve Gee, and I moved to Vancouver from Dallas, Texas in July 2016. I'm still confused how in the world did I get here. How in the world did this happen.
It started with my dad, who was an orphan of the Korean War. He was born in South Korea when the war broke out. His family in the small fishing village left all the children in the village, my dad was captured by the North Korean army and taken over the DMZ and put into the war camp.
There were 2 seasons in the war camp: planting seed leaves, and planting rice. He didn't know how long he was in the camp. They were a bunch of orphans, mostly without clothing. One day he got up and was looking out of the window and he saw a man, an American soldier, washing his face, so he ran out to him, looked at this soldier who looked up and him, smiled, and pulled out a stick of gum, tore it in half, and gave it to him.
My father said he had had gum before, but it was gum already chewed out by soldiers, so it was amazing to taste this sugar, his head almost exploded, it was this amazing moment for him.
The next day, a man came up to him and said you're leaving today. He walked him out of the room, and that same American soldier came, put my dad around his soldiers, and walked onto a packed train across the DMZ into South Korean. This man took him to an orphanage, and my dad said that once in a while that same American soldier would visit the orphanage to hand out more candy, and all the orphans would run up to him and get the candy.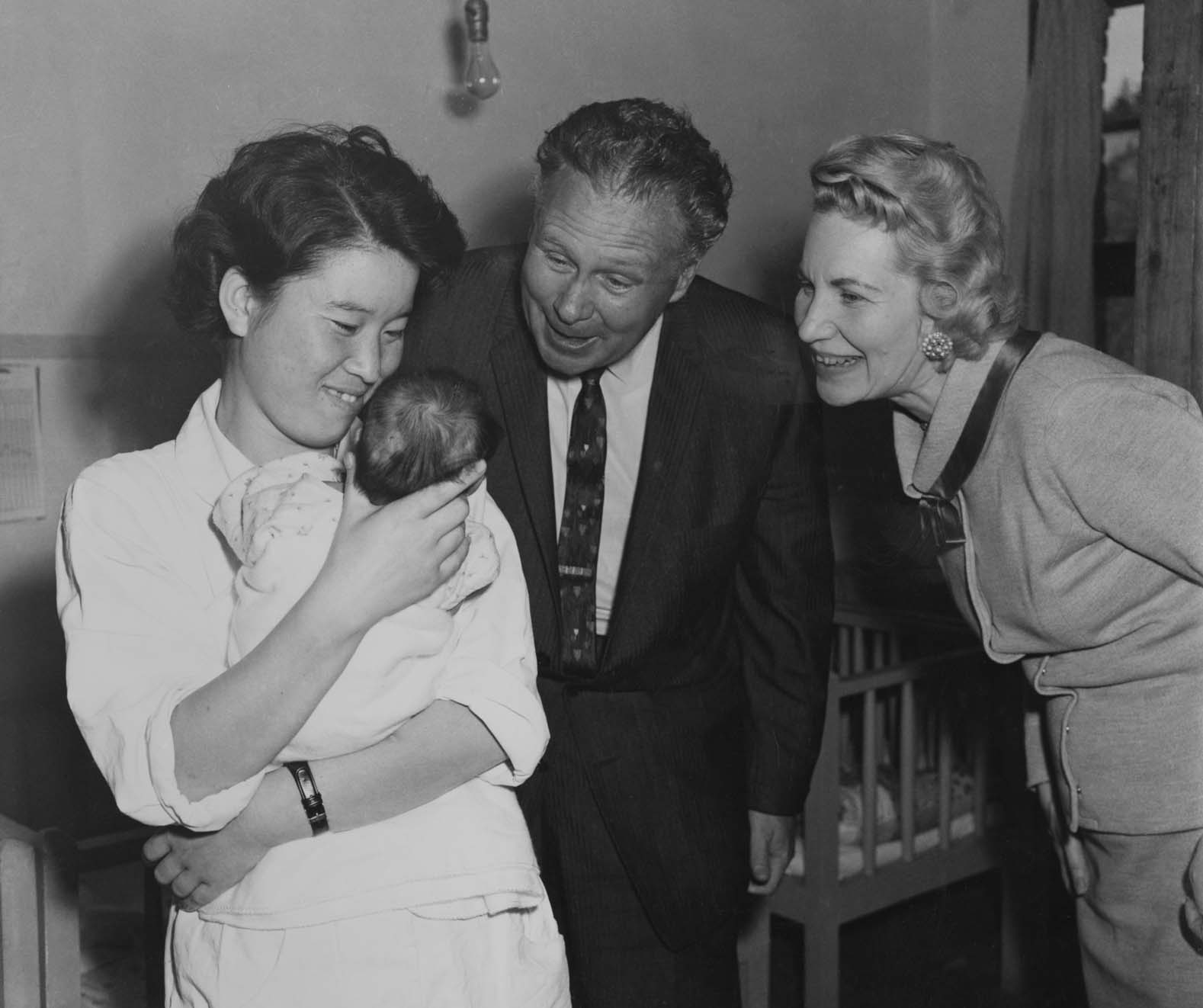 A few years later, my dad was adopted and moved to the United States. Unfortunately, he was abused, and the American government took him away. He was readopted by the Gee's in Houston, Texas. The Gee's sent him to a private school for good education, and he ended up listening to this radio program called Unshackled, and ended up accepting Jesus at the age of 17. He went to his adopted parents, the Gee's, this pretty good news, but a couple of months later, they took him to a Greyhound station, gave him $100, and told him they don't want to ever see him again.
Then my father went to the only place he knew was a place of peace, to Chicago where Unshackled is broadcasted from. He finds the Pacific Garden Mission that produces Unshackled, he started volunteering there as a janitor, he goes to Moody Bible Institute, and eventually met my mom and got married. My dad ended up going to seminary.
One day he was looking at a magazine in Chicago and he sees this man, the American soldier who handed out candy to orphans in Korea. He looked at the ad, and it was an ad for World Vision, and that man was Bob Pierce, the founder of World Vision. Pierce was working in Korea as an American war correspondent, saw the plight of orphans there and started World Vision.
There's my father: One day in a Korean work camp, the love of God penetrated darkness with a stick of gum and broke my dad's heart. It was his first opportunity where my dad saw the love of God who would come into a work camp to a poor orphan boy through an American war correspondent, who would put him on his shoulders and love him deeply.
This story, as I grew up and now having children, has deeply affected my life. I was serving as a missions pastor in Dallas, Texas where I met an intelligent doctoral student named Lin, has a PhD in Artificial Intelligence and worked at Microsoft Beijing in the summers. We would talk about Jesus, and he said he can't believe in him. We would go through a chapter of John a week, and I told him that this was the book to know Jesus, the son of God. We were getting close to the end of the book and I prayed, "Please, God, we only have 2 chapters left, you're going to have to do something!" I remember throwing every gospel presentation I had and I fell flat. One day, after praying for Lin, Lin came to me and said "I believe in Jesus, that I'm a sinner and that God sent Him so I can be reconciled to Him…but the 7 day creation trips me up as a scientist." I said, "well, this is good news!" You can see how this plays out. The next day, Lin comes to my house and tells me "I called my mom in Harbin, China. I called my grandma in Shanghai. I call my brother in Oklahoma getting a doctoral degree. I told them all they need to meet Jesus Christ. I don't know if they'll all believe, but I told them you have to meet Him"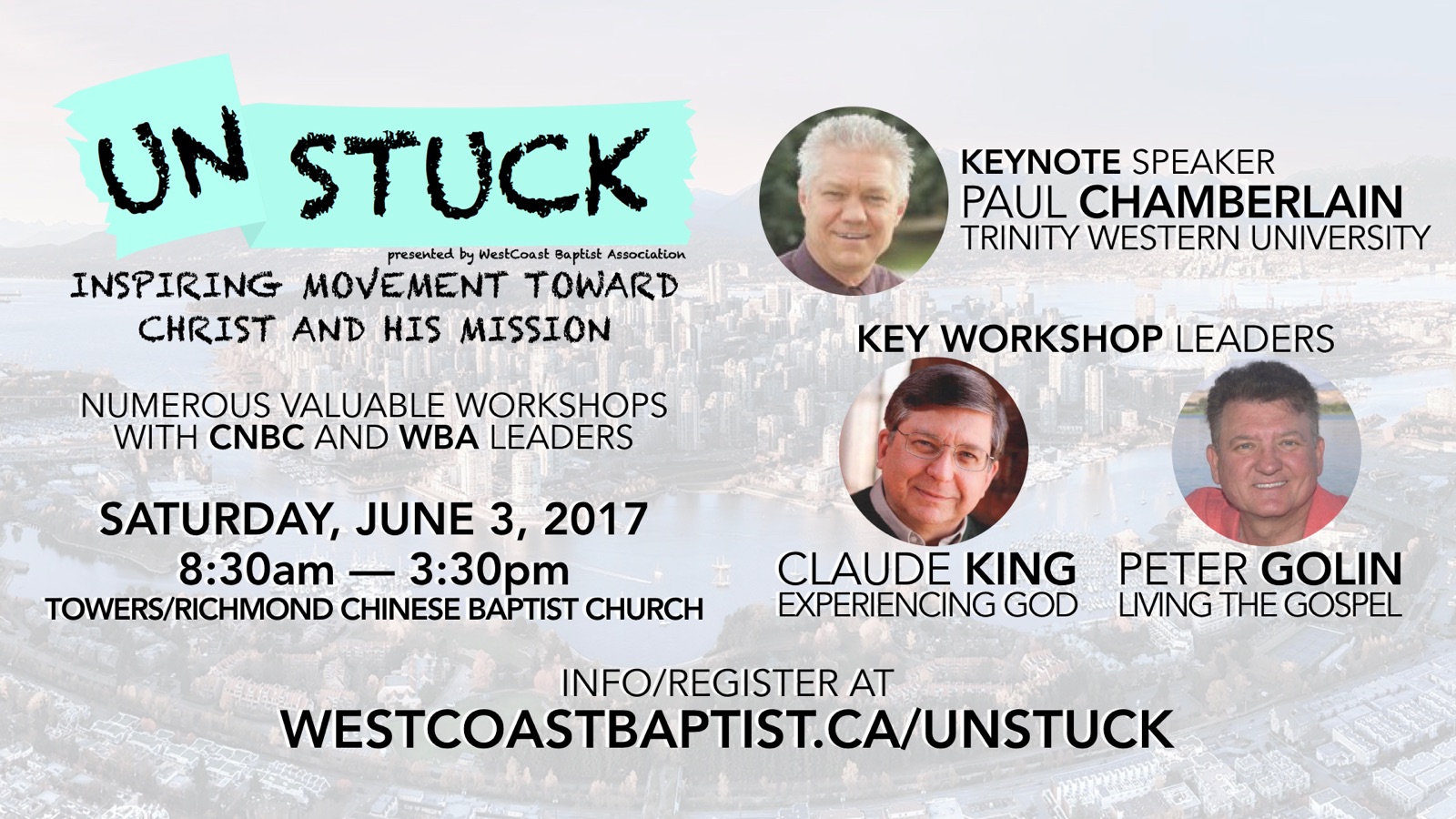 It reminds me of the woman at the well who runs back to the village and says you've got to meet the person at the well. That's what Lin did. God planted a ministry in me, a ministry to the stranger at the well, the immigrant, and seeing him run back and tell the village. I came to visit Vancouver with Ian Buntain and fell in love with the city, a city full of people who are looking for answers.
I don't need you to point to yourself
but to the True Shepherd. Steve Gee
When my wife and I first decided to move here, I remember falling on my knees saying "God, I'm not ready for this." I remember, as audible as I can hear, God saying "I know. Steve, go to Vancouver. I don't need you to point to yourself but to the True Shepherd, the One who is sufficient."
Today, I stand with a very simple call, to walk around Vancouver, this beautiful city, handing out sticks of gum and pointing to the One who is sufficient.
Rachel's Story

A Planting Family's Journey in the Darkest Valley
River Community Church is set to open their new ministry centre in Richmond Steveston.  Meanwhile, planters Brad and Rhonda Forlow began to notice concerns with daughter Rachel's health.
"Starting in May 2016, Rachel started talking about how she was having chest pains, or she couldn't breathe at gymnastics practice," recalled mother Rhonda Forlow, "we also started to notice she was taking a nap after school, and not only that, but she would go to bed at regular time or before and sleep all night as well.  The doctors told us that we needed to immediately take her out of any type of exercise, whether that'd be P.E. class, doing things on her own.  Gymnastics was definitely out."
"I was always being tired," explained Rachel Forlow, "not feeling like doing anything."
"It was actually a running joke in our house," said Rhonda, "the doctor actually wrote on that same note that said 'no chores at home.'  People would say things to us like 'well, she looks just fine.'  She did look fine, but they didn't see our daily life, and they didn't know actually what was going on."
"In the meantime, the hematologist had felt like her iron was so low that we had to start iron transfusion.  Normally they would do iron transfusion once a month, some people has to have them once every two weeks, Rachel had to go once a week for five weeks.  Eventually, we found out that she had a very rare disease called collagenous gastritis, where nodules form a band made up of collagen around the lower part of her stomach.  It does not allow certain nutrients to go through her stomach, one of which is iron.  From what we've been told, she will deal with this for the rest of her life.  She'll continue to have really low iron, which will cause her hemoglobin to get really low and will need iron transfusions unless the special steroids that she's on eventually takes the nodules away enough so that the iron pills will work in her system."
"It was the scariest when [the doctor] said there's an 8% chance we would find anything in the endoscopy and colonoscopy," Rachel reflected, "and after that he would not have known what to do.  I think I'm relieved that I know what it is now and why I have low iron and can't do anything."
He's ministering to us. Rhonda Forlow
"The doctors that we were seeing in the GI (gastrointestinal) department are treating seven children, including Rachel, with some form of this disease," furthered Rhonda, "when there are only sixty-four people in the whole world who has this decease, for them to be able to treat seven of them, is a big deal.  I think God really has us, yet again, exactly where we're supposed to be, not only because of the people He brought us here to witness and minister to, but also He's ministering to us."
As God answered prayers for Rachel, He also continued to answer prayers for the ministry.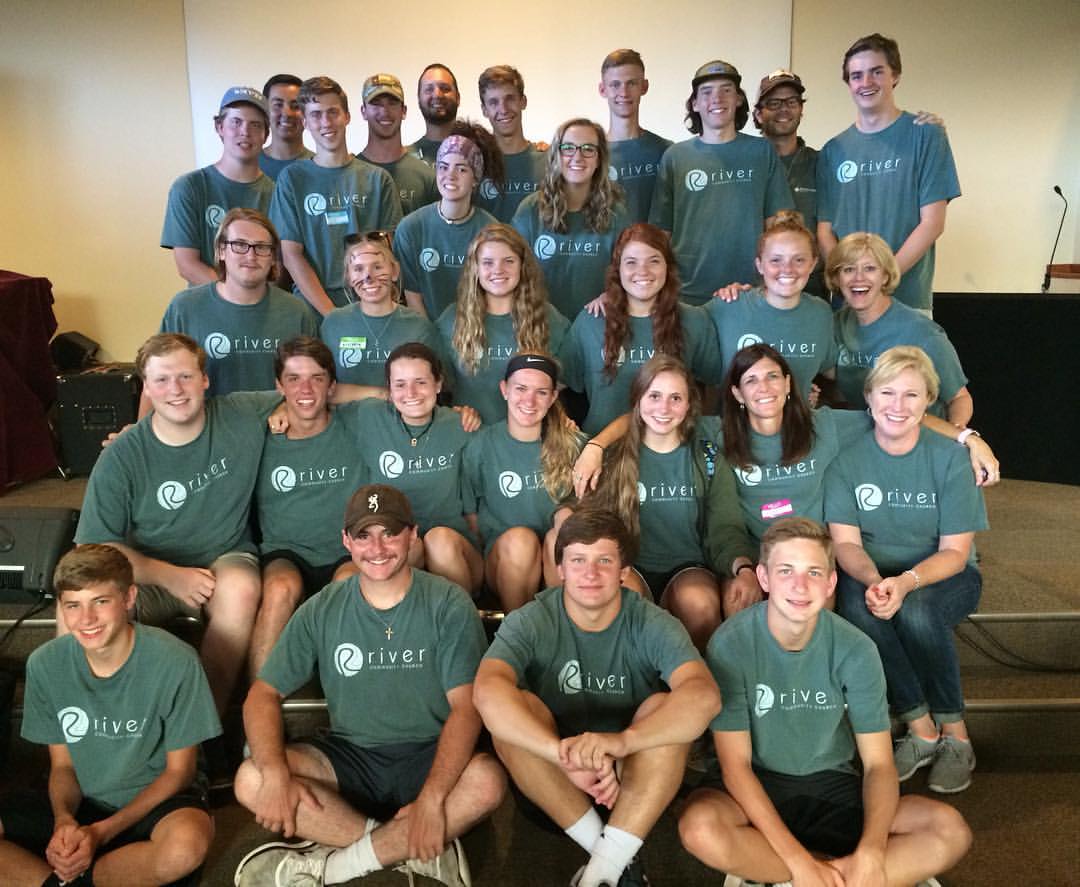 "We've been here in Steveston for three years," said Brad Forlow, "we came here with the intention to immerse ourselves in this community, to serve the community, and to build meaningful with non-church non-believers, and God's continued to open up doors for us to minister to families and to kids and students.  Much of our ministry is done in and through our house right now.  We've been praying for the right time and location to have a presence in Steveston Village.  Through prayer and talking to realtors, this property came up at the end of 2016 and we've taken possession of it now.  This space is great opportunity for us to be part of the community, and we see this ministry space of various things we've been asked to do and currently doing in our home.  Discipleship, leadership, anything a small group is doing, this ministry centre gives us space that is neutral as we seek to extend our ministry into Steveston Village."
uVillage

Korean Church has First Baptism
With a heart for the next generation, it has been six years already since my family came to live in and do ministry with Origin Church on the UBC campus with Craig O'Brien and his family. Sunday worship gatherings, one-on-one meetings and discipleship with students, Alpha group, a Thanksgiving gathering, inner-city ministry, exam care packages, and a Christmas gathering. The fall term passed by quickly and 65 to 85 people gather each Sunday to worship together at Origin.
Since 2015, Origin has been praying for effective Gospel ministry in the Chinese and Korean communities, the largest ethnic groups on the UBC campus. With limited resources, we thought it would be an answer to prayer when God sent team workers for ministry. God sent Ian Lee and Jaeho Huh for the Korean ministry, two people with hearts for the next generation. Together we could start uVillage Korean Church. Finding a place to worship is a big challenge at UBC but God answered our prayers and opened doors for us to rent the Chapel of the Epiphany (Vancouver School of Theology) at a reasonable rate.
We are full of gratitude. Peter Yoon
uVillage had its first Sunday gathering in October with many churches assisting in love. One church volunteered to be a financial hub, another church helped us purchase equipment, another paid for uVillage T-shirts, and another paid our first month's rent. We are full of gratitude.
We had our first family retreat in late December. We are most grateful for our first baptism on January 1, of a first-year engineering student named Je Yoon.
Love and prayers are desperately needed for the campus church ministry that focuses on reaching out to the young people with the Gospel, and equipping them to be followers of Jesus. I know that God has called our family to the UBC campus. Please pray for our family so that we can continue to live and work well as church planters.
Please keep Origin Church at UBC and uVillage Church (www.uvillage.ca) in your hearts and prayers and be our partners in this work.
Originally published in the CNBC Horizon.  Used with Permission.
No Regrets

Churches Challenged to Launch Men's Ministries
It was while challenging the men in the Association to fast and pray for revival that Casey Cleland of Westlynn Baptist Church first realized how few churches actually have men's ministries.
"I knew of only two that had would be called a true men's ministry," he says. This in turn burdened Cleland to urge leaders to launch men's ministries as a way to engage the men of their church. "This is critical as I believe men are the answer to a spiritual awakening in this land."
To help jumpstart this initiative, Cleland organized a conference under the banner of the No Regrets men's ministry on Saturday, February 4, at Westlynn. The event has been held annually since 1994 out of Brookfield, Wisconsin, with speakers simulcast via live HD video to close to 100 host sites across the U.S. and Canada.
Thirty-six men from seven churches—including at least two from outside the WBA—showed up despite a snowstorm that weekend. Afterwards, 95% rated the conference "very good." "It exceeded all my expectations," Cleland says.
Four of the men were from Royal Heights Baptist Church. "The conference was uplifting and inspirational," says Associate Pastor Glen Watson. "It will act as a catalyst to start a men's ministry at Royal Heights. We were blessed by what they saw and heard."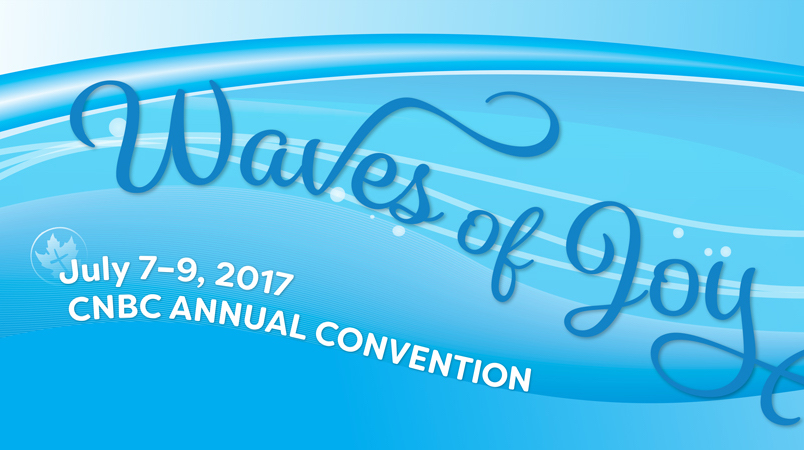 One purpose of the conference is to encourage churches going forward to plug their men into the No Regrets Study Series, a two-year small group discipleship program.

"Church leaders need to seriously consider this for their church," says Cleland, who has been leading the study at Westlynn. "This is a serious program for helping men understand who they are in Christ. It challenges them and at the same time fostering much-needed accountability and bonds of brotherhood."

[ssba]