Monday Morning Manna: Jehovah Jireh, and Friends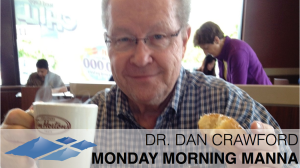 My wife's medical bills continue to mount, and I have been asked repeatedly by friends, if they can assist with expenses not being covered by insurance. I've had a name plaque on my desk since 1967 that has the inscription, "Dan R. Crawford" on the front, and "Jehovah Jireh" on the backside, where I alone can see it. Through the years, it has been a reminder that God provides for us even as He did for Abraham (Genesis 22:14), and has done for followers throughout the ages, including some of the readers of these weekly words. While I resist something as bold, and unnecessary as a "GoFundMe" page, I believe it is unkind to tell people "no" when they want to be instruments of God's provision. Without any solicitation from me, friends have sent checks, with simple notes that offered financial assistance mixed with friendship. We have understood their generosity as a part of God's provision, and accepted the gifts with gratitude. I am told the bills will continue to roll in for several months, so we have no idea how much we will eventually owe, but this much we know – God provides.
Dr. Dan Crawford, Senior Professor at Southwestern Baptist Seminary, is the WestCoast Baptist Association's Spiritual Life & Leadership Mentor. Follow Dan on Twitter @DrDanRC and Facebook www.facebook.com/dan.crawford.