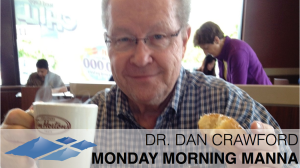 Monday Morning Manna: Burdened, but Sustained
I grew up hearing that God would never place more on a person than that person could bear. As I got older, and learned that wasn't exactly true. What is true is that God will never place more on a person than He and the person together can bear. The Psalmist said it this way, "Cast your burden on the Lord, and He shall sustain you" (Psalm 55:22). I have learned in these past few weeks of my wife's injury, surgery, rehab, and home health care, that I am not called, nor equipped to be a caregiver. I simply can't do this – alone. The burden is too much to bear by myself. For one who was raised and trained to believe that I could do anything to which I set my mind, it is hard to admit that I can't handle this burden. The more powerful lesson I learned early, but only fully applied later, is that I can "cast" my "burden on the Lord." When the Psalmist says the Lord will "sustain," he uses the word that literally means "to measure." Here it means that God would give such a "measure" of strength and grace as would be sufficient to bear one up under the "burden." God may sometimes remove a "burden," but that was not promised. What was promised was to help bear it, to "sustain" us. Yes, I am in over my head, but I am being sustained.
Dr. Dan Crawford, Senior Professor at Southwestern Baptist Seminary, is the WestCoast Baptist Association's Spiritual Life & Leadership Mentor. Follow Dan on Twitter @DrDanRC and Facebook http://www.facebook.com/dan.crawford.